Kristin Esseth - Résumé of merits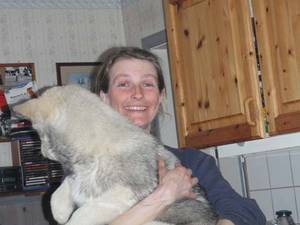 Kristin born 1968 in Norway, during the childhood she was doing a lot of Nordic skiing in the forests and mountains in Norway. She has always been interested in dogs, horses and the nordic nature.
In 1984 she got her first own dog, a flat coated retriever which she used in all kind of activities. Her first malamute she got in 1990 and then she got more and more interested in dog sledding, 1993 she bought her second malamute. In 1995 she bred her first litter and then the "crazyness" began. In 1997, after she has lived in Sweden one year together with Christer Afséer, they moved up to Dalarna in the middle of Sweden.
The first years with sleddogs it was very much skiing nordic style with one or two dogs and pulka.
After she had moved to Dalarna she participated in some longer races sled dog style. In the norwegian Polarhundslöpet (100 km) she has been participating 11 times and winning two times.
In a 300 km race called Technical Trail she became number three in total. She has been the total winner of the Polar Distans 2000 (300 km) one time and at the two other occasions she became the best malamute team participating. In 2004 she won silver in European Championship (WSA) 2 x 52 km and in 2008 she also won silver in WC (WSA) 3 x 52 km. Beside this, she has participated in numerous smaller races and events where she mostly is placed among the three best teams.
Now she is looking forward to Femundslöpet 400 in 2010...
In the kennel (Noatak) and the work with the dogs she takes the bigger responsibility for the puppies and younger dogs.
Femundlöpet 400 (2010), 49. Place